Protection blinds
for machine tool
Scuder Way Wipers machinery blinds are necessary to protect the machine's guides and spindles, preventing the entry of shavings, fluids, and dirtiness.
We manufacture a wide range of protection blinds, always analysing each machine's needs to adequately protect it. High-quality, tempered, and especially anodised aluminium blinds, highly resistant to impacts from shavings. We manufacture different kinds:
SKIRTING
BLINDS
The machine itself moves the protection blind, with no need for any other mechanism, picking up over itself.
SPRING REEL
BLINDS
Manufactured with or without box. Placed at both ends of the machine, with a system of springs inside the drum, they open and close as the machine moves.
MOTORISED
BLINDS
Protective blinds for machinery, manufactured with electric or pneumatic motors with a guide system for opening and closing.
PHR, PHA, PHE and BA blind composition:
High quality hardened anodised aluminium. Slat width 20 mm. and 5.5 mm. thick.
Polyurethane links with special treatment against oils and coolants.
Metal connecting screws and hinges. Screwed or countersunk screwed.
** We offer supply of slats, polyurethane, and screws for replacements.

SQUARED


terminals

Type "E" 30×20 mm.

FLAT


terminals

Type "P" | 25 mm wide and 5.5 mm thick

DRILLED


terminals

According to blueprint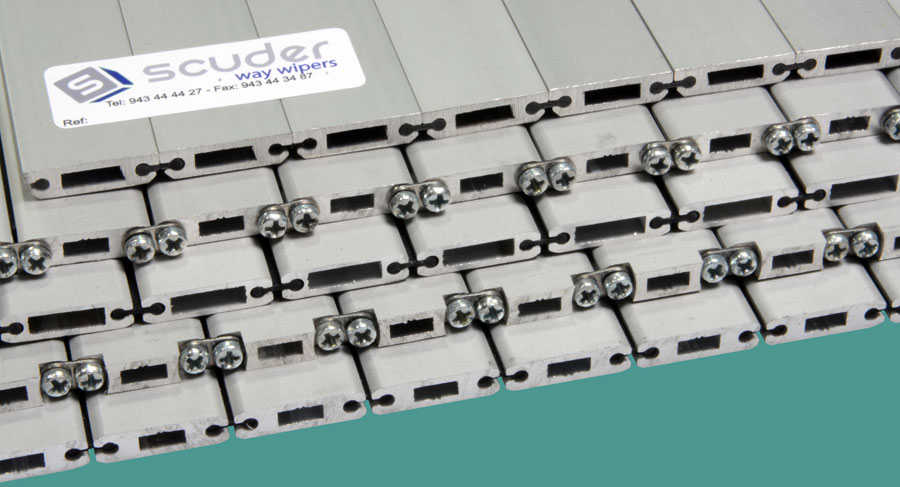 Close-up on protection blinds for machine tool
Request product information