Telescopic springs
to protect shafts and spindles
The telescopic springs are necessary for the proper operation of machinery to avoid accidents and breakdowns.
Manufactured with extra-strong steel straps (Rockwell 55-58).
For areas with elevated exposure to refrigerants and coolants the stainless steel protectors are recommended.
They can be placed in a horizontal "H" and vertical "V" position.
We also offer RETROFITTING SPRINGS for a quickly and easy mounting to avoid the disassembly of the spindle .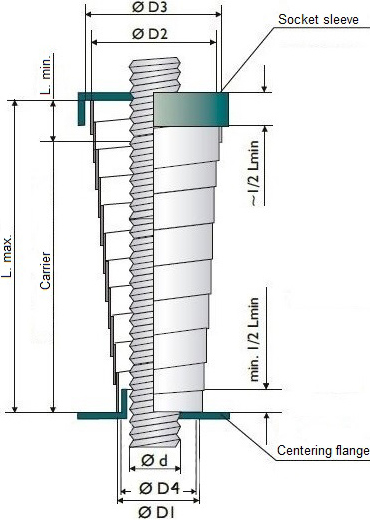 | | |
| --- | --- |
| d | Diameter of the spindle or axle to protect |
| D1 | Inner diameter of the telescopic spring |
| D2 | Outer diameter of the telescopic spring |
| D3 | Inner diameter of the axle housing (D2+6 mm.) |
| D4 | Outer diameter of the centering ange (D1-6 mm.) |
| Lmin. | Minimum compression of the telescopic spring |
| Lmax. | Maximum length of the telescopic spring |